Issaquah Highlands Community Association Fence Requirements
City of Issaquah Fence Code
Fences (Residential)
Maximum Height
The maximum height in the front setback is 4 feet.
The maximum height in the side and rear setbacks is 6 feet.
Additional HOA restrictions or approvals may be required.
For more information See Municipal Code Section 18.07.120.
Residential fences do not require a building permit unless the fence is:
In a critical area
More than 6 feet in height
Other land-use restrictions exist
Determining Your Property Line
In newer-platted areas you may find buried corner markers — look for a piece of rebar in the ground. The Permit Center or King County may have plat maps to assist you in finding your property lines and/or dimensions. Please be aware that ultimately it is up to the property owner to verify property line locations, which may require a professional survey.
Issaquah Highlands Community Association Fence Requirements
Fences
Adding living, wood, or metal fences in a pre-approved style does not require a formal application review. However, voluntary ARC reviews may be requested. Such reviews provide consultation time with the IHCA Community Manager and a review by the ARC. The process ensures compliance with ARC standards.
Complete the Fence Installation Notification form. Applications (with or without the review fee) must be submitted prior to fence installation. A Completion Verification Form is required to be submitted. It is advisable to retain copies as the Applicant is responsible for proof of notification and completion. A privacy fence will drastically alter the appearance of Applicant's property and adjacent properties.For this reason, the ARC recommends that Applicant discuss fencing plans with neighbors prior to filing an application with the ARC.
Fences along Issaquah Highlands Park Drive are constructed inside the homeowners' property lines and are the property of those homeowners. The fences must be maintained by the homeowner and kept painted or stained with an approved color.
Homeowners must determine the exact location of their property line and make sure that any fence constructed is within that property line prior to construction. The ARC recommends that homeowners who are unsure of their property line location have a survey done to avoid any conflicts. In the event that a fence is located outside of the homeowner's property, the homeowner will be liable for all costs associated with relocation of that fence, including the cost of a professional survey. This rule applies to all encroachments, regardless of whether the encroachment occurred prior to or
subsequent to the adoption of the revised Architectural Review.
Fence frames must face the homeowner's property. This is commonly called a "Good Neighbor Fence."
Chain link fences are not allowed except for the purposes of pet enclosures.
General fence requirements:

Wood fences and screens shall be painted or stained when constructed and repainted/stained as necessary.
Fences, walls, and screens built on slopes greater than 15% and visible from a public space or common area shall step in sections.
Fence designs shall have a desirable appearance from both sides except when one side is adjacent to a critical area and not visible from a public area.
Fences shall be constructed using high quality workmanship and high quality construction materials.
Metal fences must be powder coated or vinyl coated black

Front yards:

The combined height of a fence, rockery, or retaining wall located in a front yard shall not exceed 42 inches.
The only fence style permitted in a front yard is a picket fence or similar open-style fence (see examples f, g, h, I, and k in Exhibit B)

Side and rear yard fences adjacent to public spaces or common areas:

Public spaces or common areas are defined as the following:

Streets
Sidewalks
Trails
Parks
Open Space including Critical Areas

Fences and screens over 48 inches in height in a side or rear yard and adjacent to public space or common area shall be either:

At least 50% visually permeable for the portion above 48 inches (see examples a, b, c, d, and e in Exhibit B); or
At least 50% visually permeable for 50% of the entire fence surface area; or
At least 50% visually permeable for the entire fence surface area (see examples h, i, and j in Exhibit B).

Fences and screens 48 inches or less in height may be either solid style or open style.

Side and Rear Yards:

"Living fences" made up of trees or shrubs on side or back yards must not exceed eight (8) feet in height.
Wood and Metal fences in side or back yards may not exceed six feet (6) in height.
Side yard fences must be set back at least five (5) feet from the front corners of the house or garage unless connected to a front yard fence, hedge, or wall.
Side yard fences attached to the house must have an opening or a gate on at least one side of the house to allow for access between front and back yards. (See diagram below.)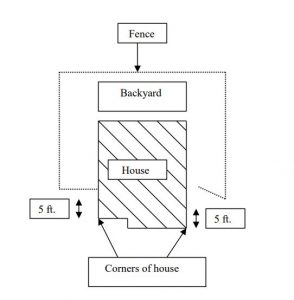 Fences adjacent to alleys, joint use driveways, or private access tracts:

In order to provide adequate backing-out distance in alleys, fences shall be set back at least four (4) feet from the edge of alley right-of-way or thirteen (13) feet from the centerline of the alley, whichever is greater, when located across from and in the vicinity of a garage, parking space, or other vehicle access point.
Fences located in or adjacent to joint use driveways or private access tracts shall be set back a sufficient distance from the property line to provide adequate travel and/or back-out space.

Gates:

Gates shall be accent elements and may be constructed of compatible or contrasting materials.
Gates may exceed the fence height.

Fence and Gate Stain/Paint Colors:A semi-solid color stain (film-forming opaque stain) is a permanent application and will fail by cracking and peeling. They also have a tendency to chalk. When applied correctly, a semi-transparent stain (penetrating, low-hide stain used for changing the color of the wood) will fail by erosion, but will not crack or peel Semi-transparent stains tend to erode rapidly in areas where there is a lot of weathering (like the south and west sections of the house), and not as much in better protected areas (under eaves, awnings, and north side of the house).

Pre-approved stain/paint colors are as follows and colors can be found in Appendix A: Cabot Semi-Solid or Semi-Transparent Stains (Cabot stains can be purchased at Lowes)

Dune Gray
Dark Gray
Taupe
Chestnut Brown
New Redwood
Cordovan Brown

Stain or paint color must accompany submittal package for ARC review.
Other stain or paint colors (except white) may be used, but are subject to ARC review and approval.

Fence and Gate styles:

Pre-approved styles can be found in Appendix B. Other fence or gate styles may be used, but are subject to ARC review and approval. Please submit photograph of style or reference style letter on application.